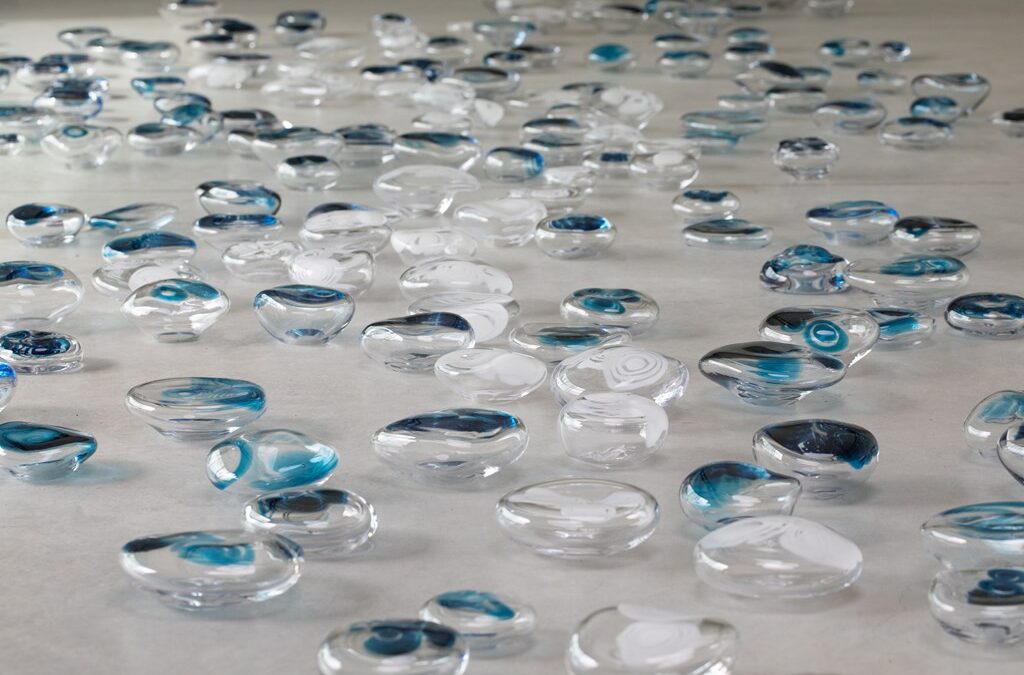 GLASS MUSEUM/ARTISTS IN FOCUS/ANUSCH B./MES RACINES DANS LE CIEL/EXHIBITION from 23.10.2021 to 06.03.2022
Anusch B – We are made of more Water than Blood / photo © P Niset 53
'Artists in Focus' is dedicated to the Belgian artist Anusch B. whose work is chiefly inspired by encounters, exchanges and a sense of wonderment. In each of her pieces, she seeks to breathe emotion, and a little beauty and radiance into the eyes of those who allow themselves to be moved by her work. Certain themes recur, such as scarification or "slices of life", which are symbolic of the marks left by experience on humankind's existence. Her many years living in Côte d'Ivoire influenced her profoundly.
Anusch B. is recognised as a leading light in the art of glass bead-making. She is also a member of the Association des Perliers d'Art de France, an association that has lobbied to have beads added to UNESCO's list of Intangible Cultural Heritage of Humanity. She is also active in the contemporary Belgian glass-making scene where she is known for her blown and cast glass artworks. In 2015, she won a scholarship from the King Baudouin Foundation (SofinaBoël Fund) as part of its Education and Talents initiative. In 2019, she was the guest of honour at the 'Biennale de la Perle', the bead biennial held at the MusVerre of Sars-Poteries in France. Always striving to learn and develop, she continues her training in artistic techniques, such as photographic printing on glass. She maintains very strong ties with Africa.
In addition to artworks that trace her artistic career, she will present sculptures made, in part, in the Glass Museum's workshops.