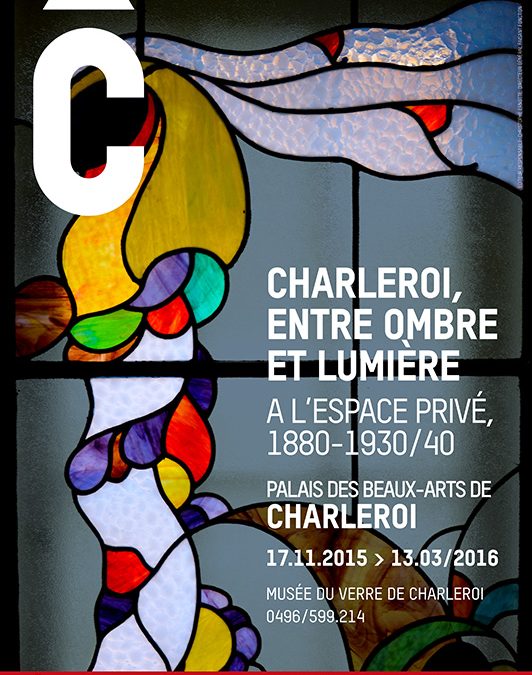 GLASS MUSEUM/CHARLEROI, BETWEEN LIGHT AND SHADE STAINED GLASS IN THE HOME 1880-1940/EXHIBITION AT THE PALAIS DES BEAUX-ARTS/FROM 14.11.2015 TO 13.03.2016
EXTENDED UNTIL 8 MAY!
From 14 November 2015 to 13 March 2016 at the Palais des Beaux-Arts in Charleroi
The blossoming of the art of stained glass in architecture coincides with the development of Art Nouveau. This infatuation persisted into the age of Art Deco, which followed it. Stained glass windows and other glass compositions were incorporated into civil architectural commissions by way of inserts over doorways, window inserts, screens, internal door windows, internal partitions, glazed bays, ceiling glass, lanterns and so on. The art of stained glass is a perfect fit for Art Nouveau's taste for decorative exuberance, but also the return to the strict lines of Art Deco. It is completely in sympathy with the other architectural elements that are in fashion: ceramics, pottery and marble. This resurgence in interest in glass in architecture goes hand in hand with the development of an interest in health and wellbeing, with its demands for more air, more light and more space in public buildings and private homes. Architects began to take the search for light as a driving principle.
Charleroi was no exception to the rule. The architectural projects proposed to private clients deciding to build in the new neighbourhoods of the booming city featured a strong focus on stained glass, which thus became as ubiquitous as the flat glass industry was in Charleroi at the dawn of the 20th century.
The first thrust of the exhibition 'Charleroi, between light and shade. Stained glass in the home (1880-1930/40)' is to show visitors how a stained glass window is made. They will then be able to see some stained glass windows from private homes, some of which no longer exist and some of which have been preserved into the present day, through some original pieces held in the Museum's collections, as well as through archive documents and photographs taken as part of the inventory conducted by the Glass Museum since 2012. The third thrust is modern-day stained glass, showcasing the work of Ivan Vanaise.
Calendrier
April 2020
M
T
W
T
F
S
S
1
2
3
4
5
6
7
8
9
10
11
12
13
14
15
16
17
18
19
20
21
22
23
24
25
26
27
28
29
30